Chemical Structure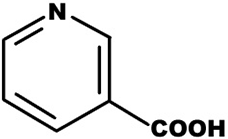 Specifications
Synonyms
:
NICOTINIC ACID, VITAMIN PP
Chemical Name
:
3 - Pyridine - Carboxylic Acid
HS Code Number
:
2936 29 20
Custom Tariff Number
:
2936.29
Specification Compliance
:
BP/ EP / USP / IP / JP / FCC
Form
:
POWDER AND GRANULAR
Packaging
:
Corrugated Boxes, Jumbo Bags, Paper Bags
Details on Use of Niacin (Nicotinic Acid)
Vitamin B3 Niacin (Nicotinic Acid) is a Nutrient Additive used in Food Premix, Feed Premix & Pharmaceutical/Nutraceutical products. It is an essential Vitamin of the B complex group better known as Vitamin B3 and has various applications
In Multivitamin tablets as a supplement
To reduce LDL (bad) Cholesterol and increase HDL (good) Cholesterol
As a Food Premix For enrichment of Cereals & Flour
As an ingredient in Feed Premix
Niacin Feed grade is used in the Pet Food Industry.
© Copyright 2019 Western Drugs Ltd.